An essential element of a branding package is the business card. It is always included in the most basic of packages. However, it must contain the correct information besides just a creative design. Do you want to know what to put on a business card? Keep reading to learn!
An ideal business card must contain relevant information about a business. It shouldn't just be about a stellar design but must act as a powerful tool for giving your business information to prospects. This business card should also grab attention and encourage prospects to connect with you. It could help you stand out from competitors and encourage those interested to get back to you when properly designed.
When creating a business card, start with a unique card template and design to set a foundation that makes it easier to continue. Then, adding the necessary business card information will be smoother.
Knowing what to add might be tricky for beginners and small business owners. You need to balance the contact details and the graphics elements conveniently. In this post, you'll learn all the necessary information to include when building business cards from scratch. But before that;
Why are business cards still important?
Even in this digital age, business cards are still so popular. If you're wondering why this remains like this, you're not alone. There are clearly many other ways to communicate and network than with a piece of paper. Despite all the technological advancements, why do we still stick to it? Here are some reasons we still use business cards;
Improves the ease of giving out contact details
All company contact information (like email, address, and phone number) must be included in the business card. Although technology (ios and Andriod) lets you share this info virtually with others, it is only possible when the recipient's device is compatible. Not all potential clients may have compatible devices. This is a significant setback. Meanwhile, having printed business cards makes it more accessible. It is quick and handy.
Provides legitimacy for your business
Business cards help create and assure legitimacy for your business. They help build trust and bridge the gap that communicates reliability to prospective customers.
It leaves an excellent first impression
A thoughtfully designed business card will catch the eye of the receiver and give an impression of professionalism. It makes a brand stand out and appear more recognizable to clients. So rather than sticking to the classics. Opt for a more luxurious and sophisticated print.
It remains the most effective marketing tool
You can meet a potential lead at any time -at a mall, conference, or airport. Exchanging business cards is an impersonal method of networking. Arming yourself with your company's business card will ensure that you never have to miss an opportunity to sell your brand to others. Keep some of them in your pockets, bags, or wallets, and give them out when introducing yourself.
It shows that you are always prepared
It doesn't speak well of your business etiquette when you write contact information on a piece of paper. If you meet two people for business and one scrambles contact info on a form while the other pulls out a business card, who would you want to do business with? Having a business card indicates that you are ready to take on tasks professionally.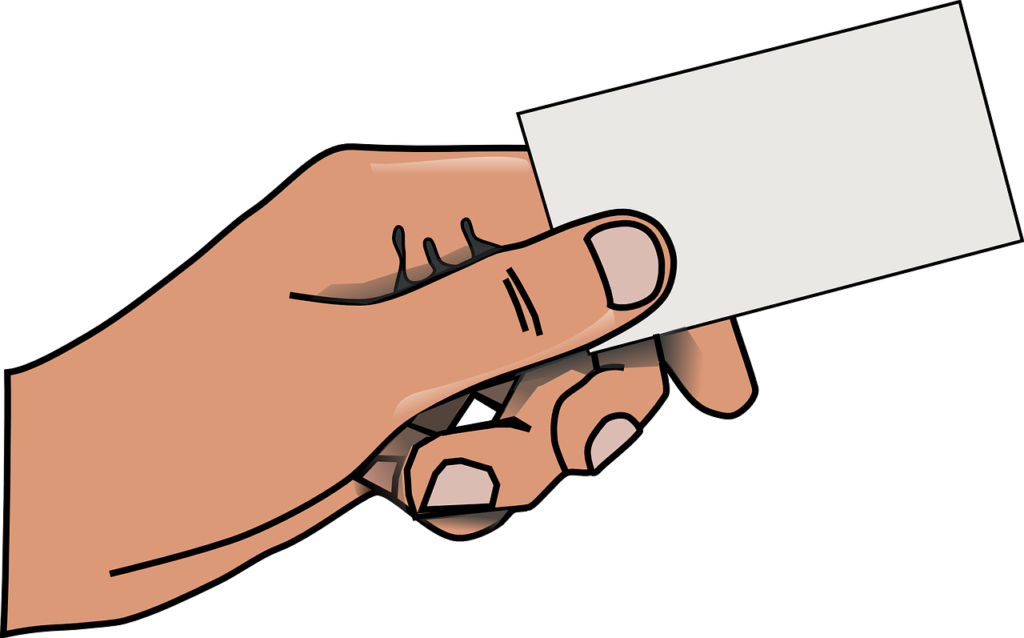 6 Things To Put On Your Business card
Although the information you will put on your business card may differ from template to template, a few details MUST be included. Attract prospects like a magnet with these few tips:
Company Logo
A logo is a visual representation of what your business does or stands for. It leaves a graphical impression of what you do. The first thing you must include is the logo because it makes your business card more memorable. It simply describes your brand identity in one image.
Your logo must be uniquely designed and unforgettable. It should be illustrated with fine lines, colors, shapes, and words. If you don't already have a logo, you should hire a brand identity or graphic designer to help you create one. You would need to work hand in hand with them to ensure that what they design is professionally correlated with your brand.
Alternatively, you can replace a logo with a photo that describes what service you provide. Meanwhile, make sure that the image you use is clear and easy to see in small size. The goal is for your business card to leave a long-lasting impression at first sight.
Name and Practical Job Title
Every personal business card should include your name, company name, and functional job title. It seems essential to include, but many people forget it. The business card should help people remember you even when you aren't there. It should also prevent awkward moments of re-introduction.
Then, a professional job title should be placed close to your name. Use a working phrase to describe what you do. For example, Freelance Writer, Graphic Designer, or Video Editor.
You might fancy putting just your job position in that company. It might seem professional but is not very helpful. Instead, add your job post and title just after your name.
Contact details
The idea is to keep the contact information as brief and direct as possible. Typically, the business card info should include your phone number, mailing address, email address, and physical address. Try not to include personal contact information for safety reasons.
You don't necessarily have to include your company's ABN on business card. You can leave that for letterheads or invoices.
Your contact information should be placed on the right, left, or center page. Meanwhile, if you work virtually or as a freelancer, you should leave out the physical address because that would take up space. When including business cards' information, Less is better.
Business Website
It is necessary to have a functioning website if you own a business. This will help you leave an impression that your business is legitimate. Your website should be tastefully created and easy to navigate. Let all visitors be able to access your website via mobile or desktop.
Create your website with a welcoming landing page. You can also record a short introductory video on the page so people can get to know more about you and your business.
Additionally, you should ensure that your website's URL is short and easy to remember. It shouldn't take up much space on your business card. Alternatively, you can package your website's URL as a QR Code. This way, people can easily visit by just scanning the code.

Social Media Contact Information
Having active social media pages is a huge plus for every business. It is a very effective digital marketing strategy, so you should pay attention. If you can't handle it, social media managers are there to assist you.
You can include your social media contact address on your business card. You want to give potential clients an easier platform to connect with you. You don't need to include your personal social media pages. It's better to keep it professional by only adding accounts where customers can get a better glimpse of your products or services.
White Space -A lot of it!
White space is any area on your business card that does not have any text. The amount of white space your business card has is an essential component of the card. You need white space to keep the structure and design of information simple and uncluttered.
To have enough white space on your card, get rid of unwanted information. You can also use the back of the card to present important details. If the page still looks cluttered, replace some texts with icons and choose minimalist design templates.
Tips for designing a business card
Now that you've known what to put on business card, you can go ahead to design one or hire a designer. Meanwhile, here are some useful tips when designing a business card.
Choose the right setting. Determine what mood you want to set with your business card. This will help you when creating a personal or professional business card. You'd like to keep the graphics and text formal for a professional business card while you ease the mood on a personal one.
Use the appropriate shape and size. A regular business card comes in a rectangular shape. Texts can be written vertically or horizontally. However, you can keep things unique by going for a different shape. This can make your card stand out.
Use a ready-made business card template. Some websites provide a basic business card layout or format. Choose one that works well for you.
Incorporate sophisticated finishes. Try out additional finishes like embroidery, magnetic cards, foil embellishments, or engravings.
Conclusion
Just because you've decided to make your business card professional doesn't mean it should be tacky and boring. Remember, you want to create a long-lasting impression on whoever receives the card. Don't be scared to be creative. You might not play by the rules but you'll get the best you need!