A lot of effort goes into setting up an ecommerce business, from the initial idea, through to research and development, and finally, to getting the store live and ready to trade.
Research shows that 80% of ecommerce stores around the world fail within the first 18 months, a sobering statistic for new business owners. But if you get it right, ecommerce is a lucrative revenue stream.
So, how can you make sure that your ecommerce business is one of those success stories? By looking past the unimportant factors and focusing on what really matters.
Here are six proven ways to grow your ecommerce business over the next year:
Develop your brand
The world of ecommerce is a saturated one and, unless you've found an incredibly niche product, there will be plenty of competition for your site. To stand out, you need to work hard on developing your ecommerce business into a trusted brand that customers will return to.
Building a loyal audience that emotionally connects with your brand means you won't have to resort to attracting customers by offering rock bottom prices or drastic discounts. These tactics will soon sink an ecommerce store, especially when competing with retail giants like Amazon.
Some basic brand components you need to develop are:
● Logo: This is the visual identity of your brand and needs to be strong, iconic, and unique. Play around with free logo generators to get you started.
● Typography: Fonts are powerful, and help create a visual representation of your brand through your copy style.
● Key Messaging: Think of three or four short, memorable and distinctive key messages that perfectly describe your business and communicate key information to your customers.
● Colour Palette: Colours communicate meaning and drive emotion in your customers, creating a connection with your brand (check out the colour wheel below for some inspiration).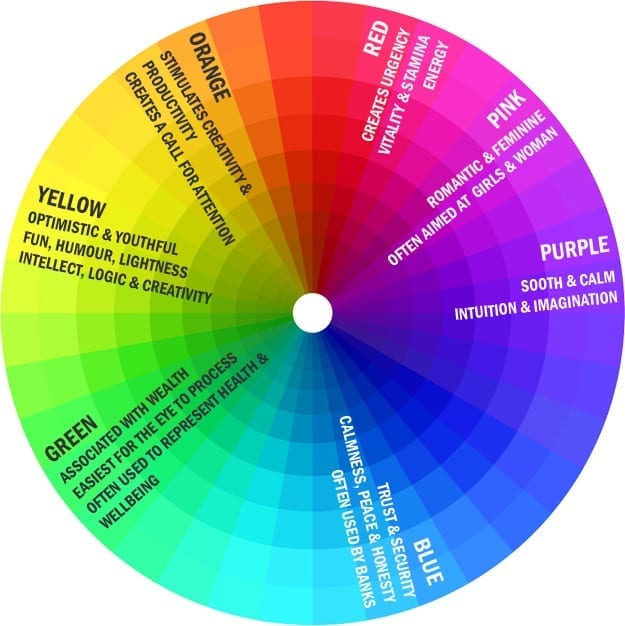 Branding is a complex field (that's why brands pay big money to get experts to do it for them). But nailing the basic elements outlined above will help you create a coherent brand for your ecommerce business.
Loyalty, trust and growth through blogging
Creating a regular blog strategy that delivers value and insight to your customers is crucial for growing your business. While it might seem demanding at times, it's well worth the time and effort.
Blogging can help you develop a brand voice that people trust, and drive traffic to your store.
Here are four reasons why a blog is important to your ecommerce business:
● Blogs are great for SEO: One of the ways that search engines determine where to place your website in rankings is by monitoring how often you post fresh content.
● A blog gives your store personality: Regular blog posts written in a conversational, honest tone help your audience get to know you, in turn building trust you and your brand.
● A blog makes you an industry expert/thought leader: Providing useful, practical information to customers will position you as an authority in your field.
● Blogs can go viral: Encouraging your visitors to share your content via social media can spread awareness of your brand very quickly.
Create a blogging strategy that regularly delivers informative, entertaining, or useful content to your audience. It should cater to what your customers are interested in and what they can benefit from — know your audience, and you will know what content they want to see.
Improve the user experience of your ecommerce store
User experience (UX) is the way that a person feels when they interact with your ecommerce store. Good UX makes your store easy and enjoyable to navigate from homepage to checkout, and will consequently result in increased sales.
If your UX is frustrating, confusing, or slow, customers will not hesitate to go elsewhere. A well-designed interface could raise your conversion rate by up to 200%, so it's not something you can afford to ignore.
Ask yourself these questions to decide if your UX needs work:
● Is your website design clean and uncluttered?
● How easy is it for customers to find their desired product?
● Can customers quickly find product reviews and information about your company?
● Is your payment process simple, quick and optimised for various payment options?
There are many best practices for UX in ecommerce to integrate into your site, but starting with the basics will help your business grow during that crucial first year. Try out some remote UX testing to set your baseline.

Communicate with customers via social media
A strong social media strategy is vital to keep customers engaged with your business and sustain growth during the first year and beyond.
71% of consumers who have a good social media experience with a brand are more likely to recommend it to others.
Communicating and engaging with customers through sharing articles, answering questions, encouraging feedback, and running competitions are great for boosting brand image on social. It shows that you're fun, active, and willing to engage with your followers.
As well as using social media as a method to find and engage with customers, make use of the paid advertising that it offers.
Social media is a great way to yield quick results from the first day your site is live, whereas content marketing and other forms of customer engagement can take longer to have an impact on sales.
Facebook is the favourite for paid advertising, with more than 95% of marketers saying it offers the best return on investment.
But that's not the only benefit that social media can bring to your business.
Social selling has become a huge part of ecommerce, so much so that it has become a standard component of the online business world. And it's not just theory — the evidence is there. Look at any retail business for sale in Australia and you won't just see a basic storefront with a few product categories. You'll see a business that sprawls at least one, if not more, social platforms with beautifully curated product photos and seamless selling opportunities.
And your customers want this. They want the simplicity of being able to buy products from your business using their social media accounts.
Ecommerce platforms are aware of this, and cater to this growing aspect in their service. For example, some ecommerce store builders include dedicated apps for social selling and marketing.
And even if you're using a content management system for your ecommerce business, most offer third-party integrations that make it easy to sell online.
Of course, even if you find that it isn't quite that simple to add social selling functionality to your ecommerce website, you should find a way to do it anyway. It's a sales channel you cannot afford to ignore.
Streamline your shipping strategy
A good shipping strategy is one that requires as little as possible from their customers. Orders should be swift, seamless, and hassle-free.
Creating this sort of happy customer experience takes a lot of behind-the-scenes work. Your shipping strategy must be streamlined to avoid abandoned carts or unhappy customers.
A seamless shipping and fulfillment strategy is something that will keep customers returning, and is crucial to get right if you want your business to grow. Like branding, it's a complex field, but some basics to consider include:
● Packaging: Are you packing your products in a way that keeps them safe from damage whilst also looking attractive? Are you making your packaging heavier, and therefore more expensive to ship, than it needs to be?
● Shipping options: Free shipping, flat rate or custom? Are you offering shipping charges that work for both you and your customers?
● Couriers: Have you chosen a reputable courier that delivers packages on time and in good condition?
Make sure your site is fully optimised for mobile
Your mobile site cannot simply be a smaller version of your website; it needs to provide a completely different user experience.
Sites that are slow to load or difficult to navigate on mobile devices will lead to frustrated customers who will quickly look for another site, so it's crucial that your mobile store is well-designed and functional.
If your current store doesn't work well on mobile, it's worth redesigning it; mobile isn't going anywhere any time soon and it's unlikely that your business will grow if it doesn't work on different platforms.
Rebuild your website with responsive design in mind, which allows your website to expand and contract to work perfectly on mobile, tablet and desktop devices. If you haven't already built your store, make sure responsive design is top of your list of priorities.
Growing your ecommerce business requires plenty of hard work, but implementing the suggestions above will make it that little bit easier.
Building your store into a viable online business is difficult but by no means impossible. Buy putting in the effort in your first year, you'll create a stable foundation for continued success.